By: Steven Millward     Source: Tech in Asia     Date: 2/6/2016
Every summer, techies around the world look forward to the latest missive from KPCB analyst Mary Meeker. Her detailed 2016 Internet Trends Report, which dropped overnight, is worth seeing in full, but I'd like to focus on the China bits.
That's because the report gives a great summary and overview of how China's internet industry is so huge and so pervasive in everyday life – much more so than the US sector is for everyday Americans.
All eyes on China's tech giants
With 688 million internet users, 50.3 percent of China's population is now online. Most of their time spent on the web is dominated by the nation's three tech giants – Tencent, Alibaba, and Baidu.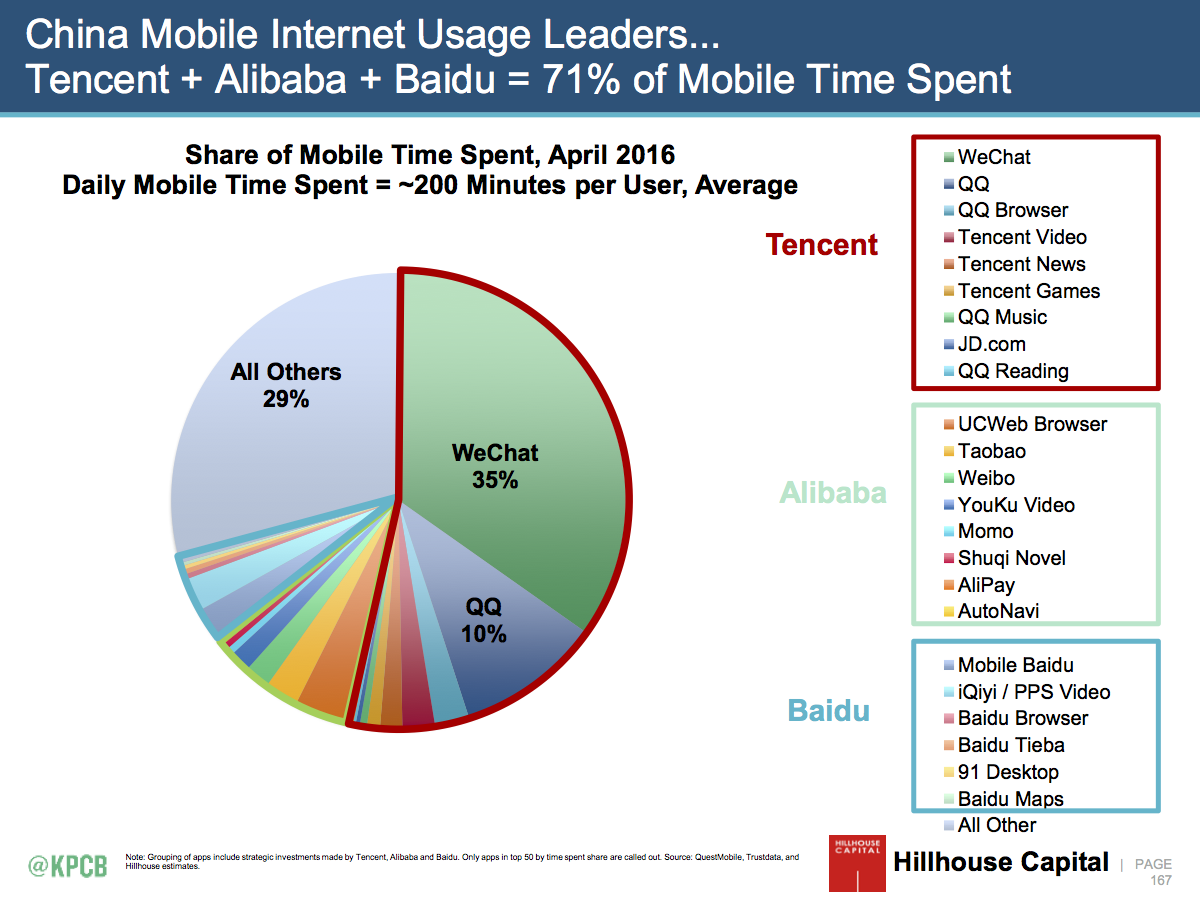 In fact, the Big Three take up 71 percent of people's time thanks to wildly popular apps and services like the WeChat messaging app (made by Tencent), the Taobao store (Alibaba's), and Baidu's search engine.
Rocking online shopping
If you think Amazon is huge in the US, it's absolutely nothing compared to Alibaba in China. Alibaba's two main stores, Taobao and Tmall, make it the nation's biggest retailer – even though, technically, it doesn't sell a single thing as its marketplaces are made up of third-party merchants.
Alibaba arch-rival JD makes it an ecommerce double gut punch to brick-and-mortar stores.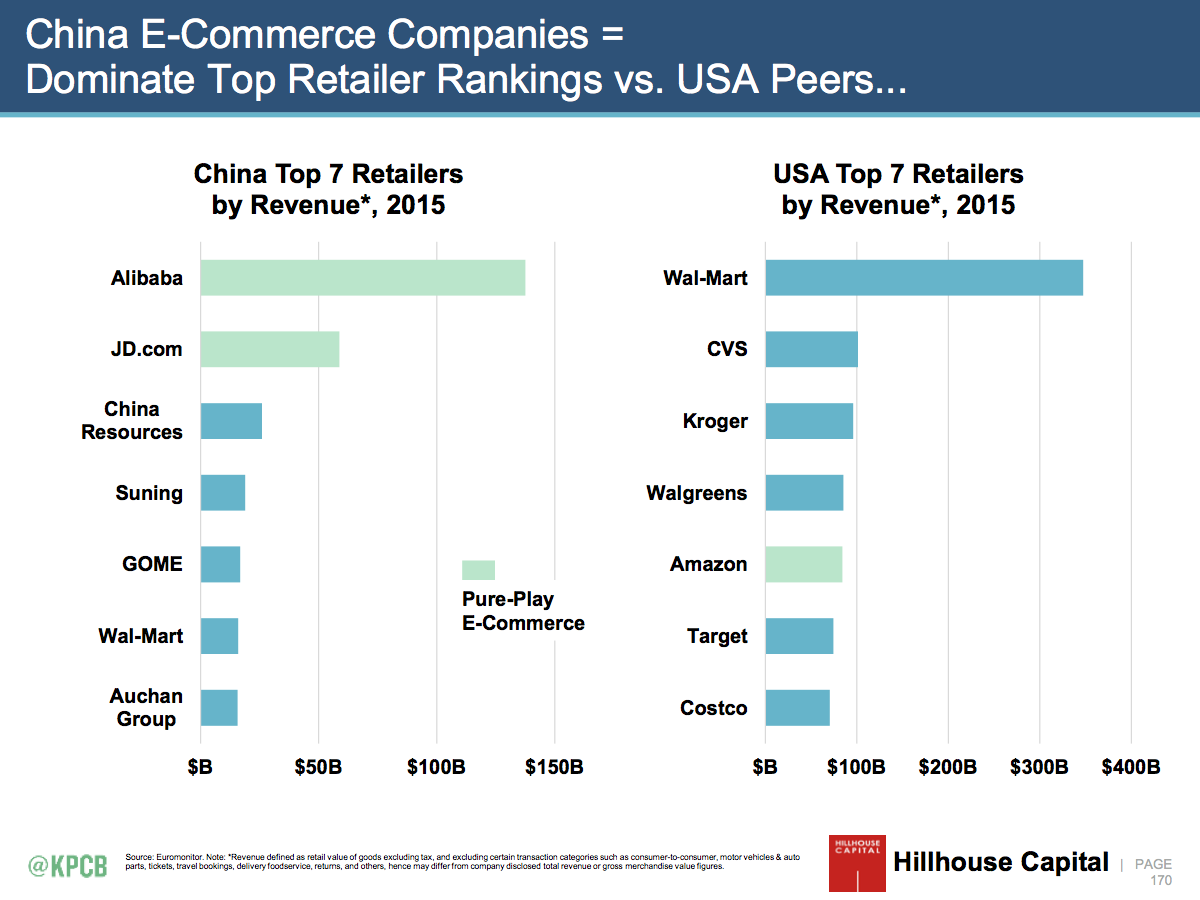 Here's another view of that. Alibaba is close to 7 percent of all retail sales in China at a time when ecommerce as a whole closes in on about 20 percent of total shopping in the nation.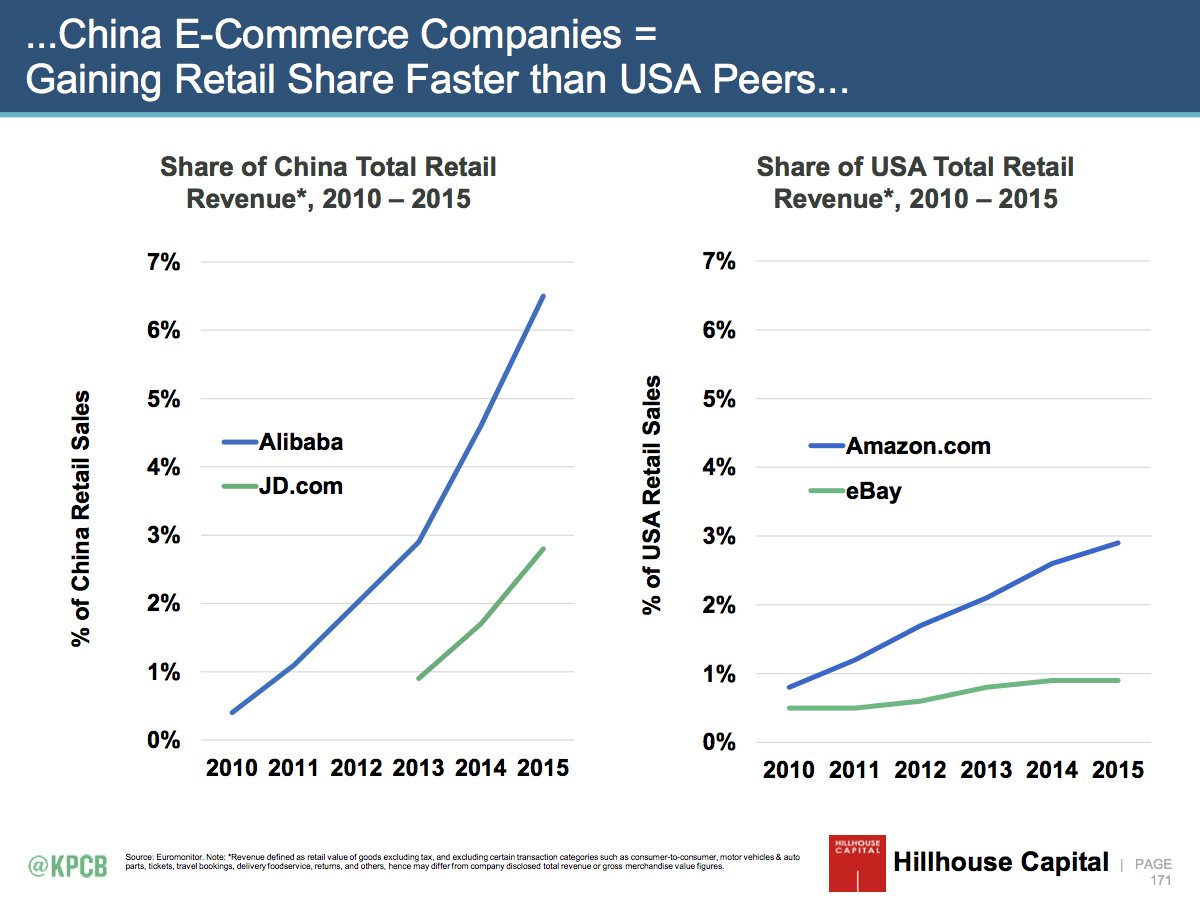 Amazon operates in China, but it's never managed to grow beyond a very minor player.
WeChat is for way more than just messaging
WeChat is not just China's top messaging app – it's also evolving quickly into a portal for so much more. Someone in China could conceivably spend all day using nothing but WeChat, doing things like making in-store payments and ordering stuff to your doorstep. Just like the experiment I did last year.
That's why 31 percent of WeChat users in the country use the app's baked-in Wallet to pay for things online, according to a survey.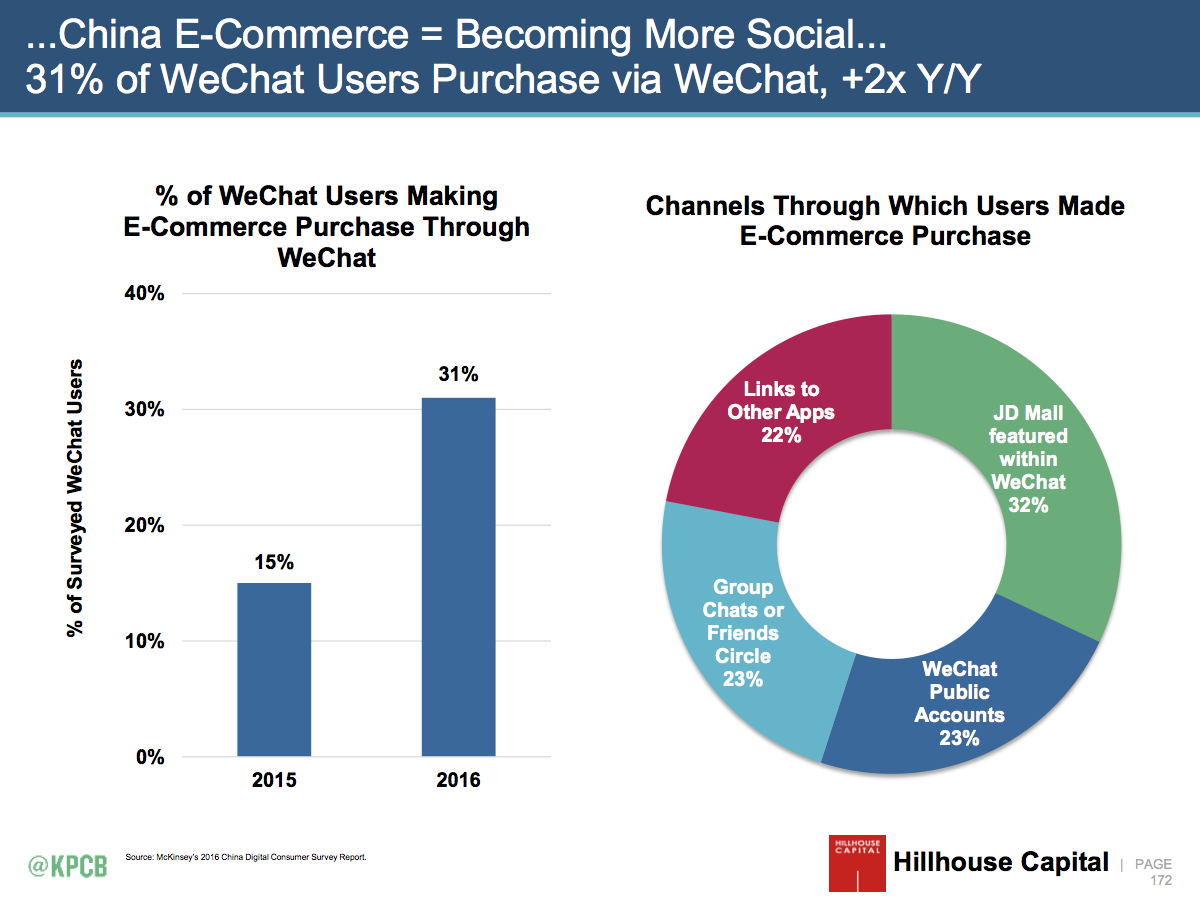 Thanks to JD's investment from Tencent, JD is accessible from within WeChat. And that's the main channel through which WeChat users do some online shopping.
See: Here's what happens every minute online in China – INFOGRAPHIC
Digital money
WeChat's shift into ecommerce and epayments means the messaging app is treading on the toes of Alibaba. Jack Ma's company has its own mobile wallet app called Alipay.
They can both be used at nearly every store and website in the country. They can even be used to pay for taxis. Alipay can be used to pay for an Uber.
WeChat users make an estimated 50-plus digital cash transactions per month. That covers things like online shopping, in-store payments, buddy-to-buddy transfers, and virtual "red envelope" gifts. That puts WeChat ahead of Alipay in that particular measure.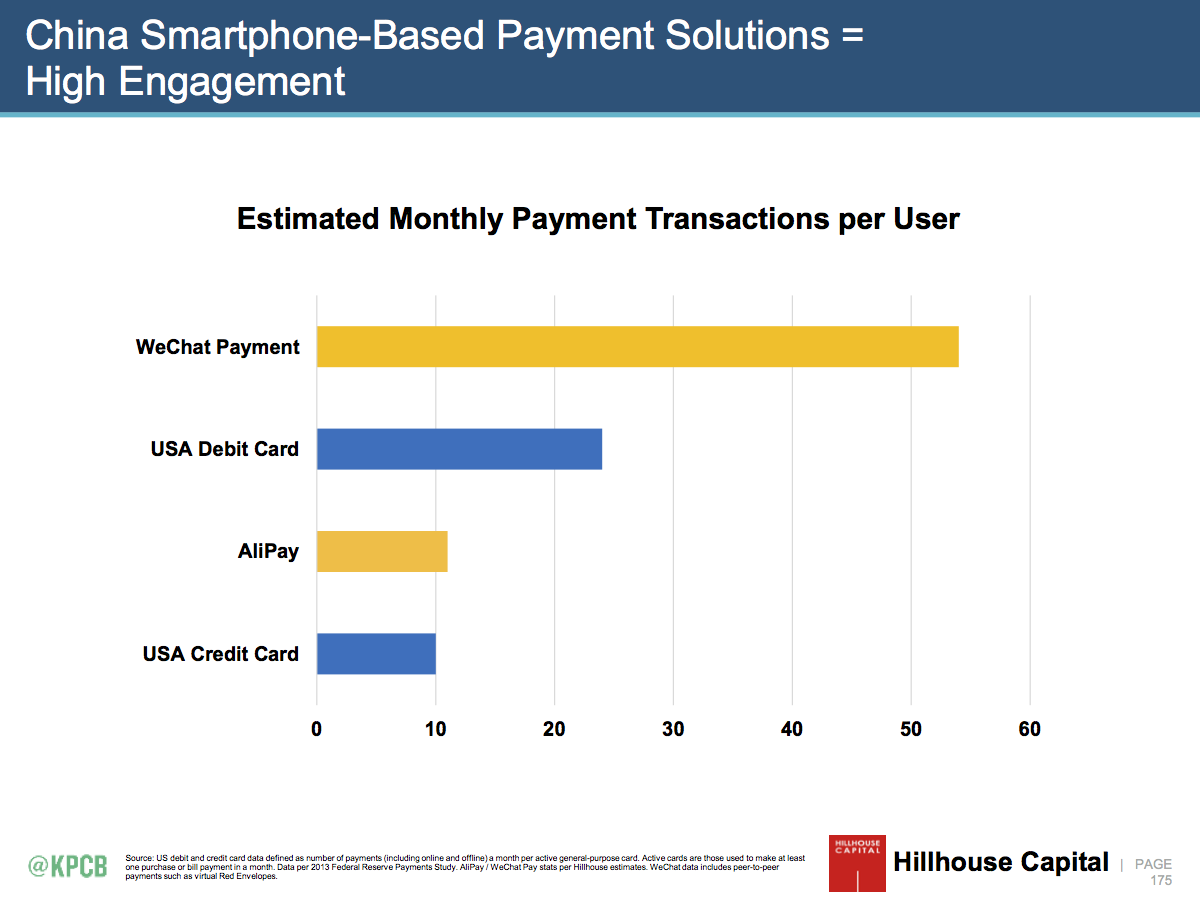 China's traditional red envelopes – packets filled with cash, mainly given to family members during the lunar new year – have found a modern incarnation in both WeChat and Alipay. The phenomenon started small in 2014, but has exploded in popularity since then.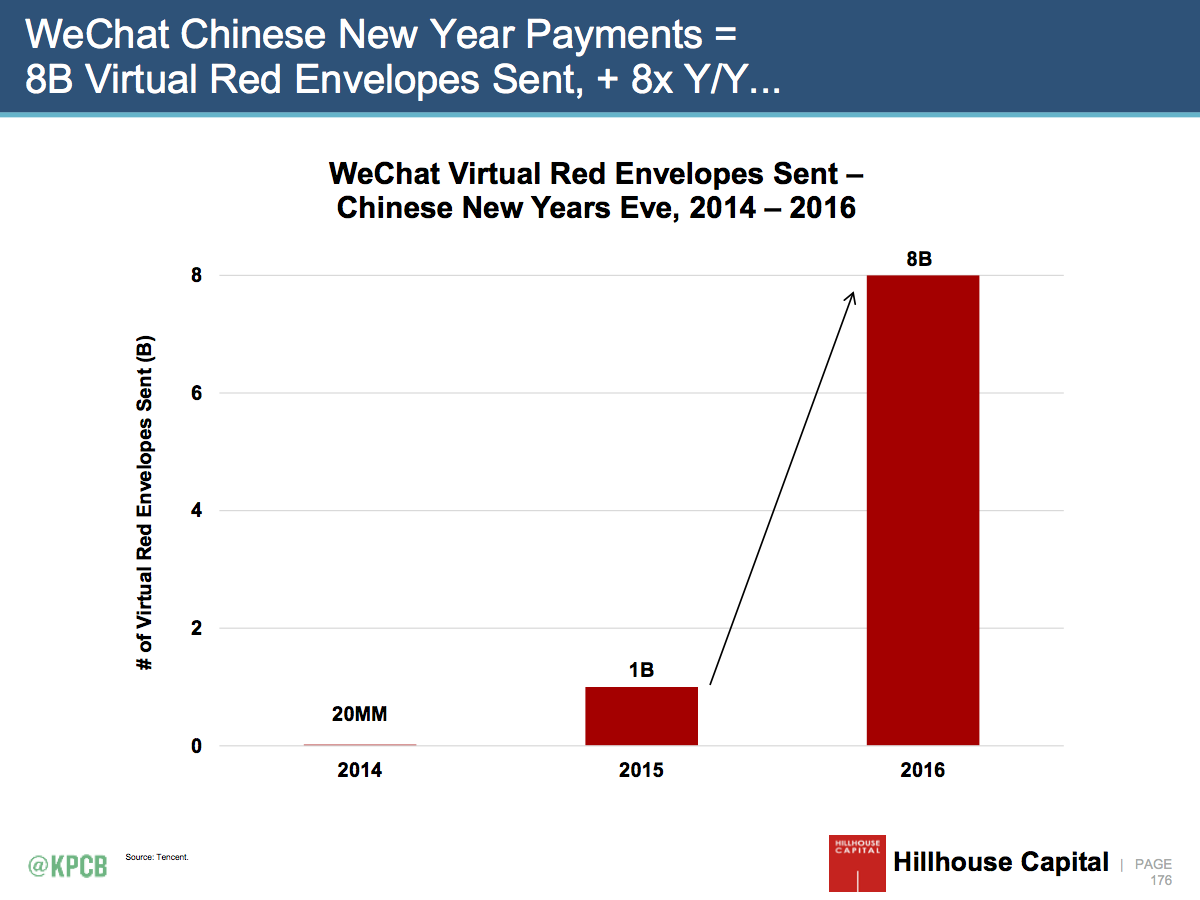 The two apps are not stopping there. They're evolving to include personal investment funds and a host of other finance-related features.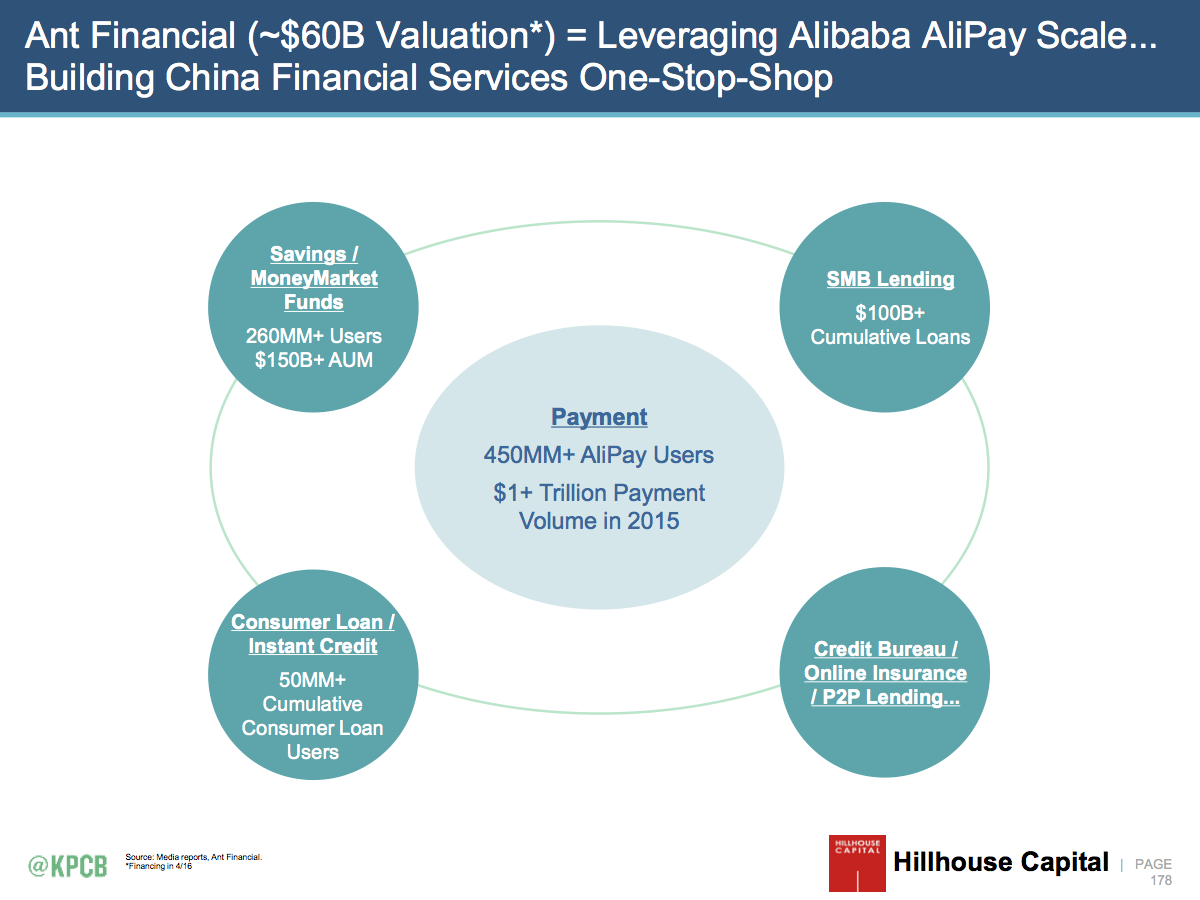 Hitching a ride
China's also ahead of every other country or region when it comes to app-connected transportation.
The ride-hailing sector is growing fourfold globally each year, with China alone now accounting for about two-thirds of it.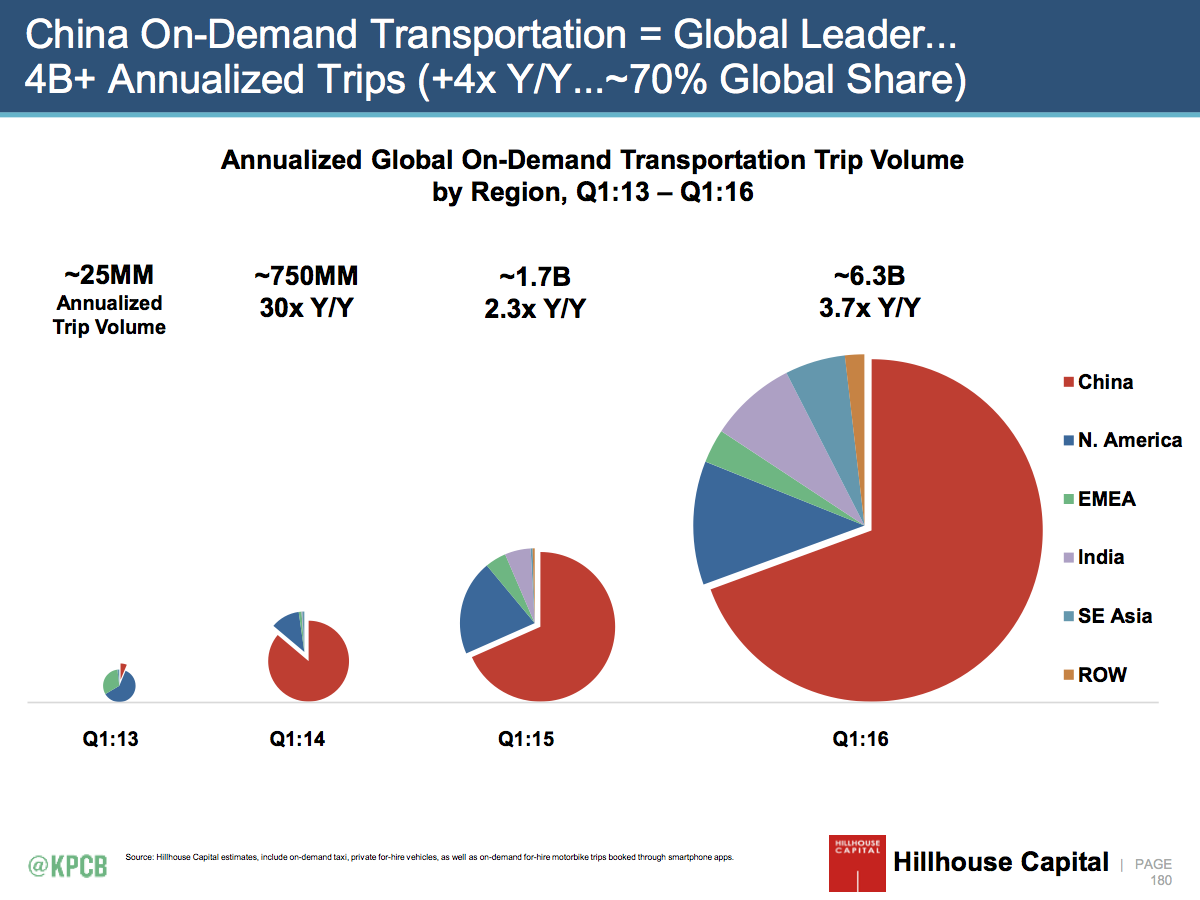 China's tech giants dominate on four wheels also. The country's two top ride-hailing apps, Didi Chuxing (you might have seen the old name, Didi Kuaidi before) and Kuaidi Dache, are actually one company jointly controlled by both Alibaba and Tencent. It's a rare truce in their sprawling war.
The apps' main competitor is US-based Uber.
Uber wants to be in about 100 Chinese cities by the end of the year – it's only in around 20 right now – because of the huge growth it sees whenever it ventures into a new city in the country.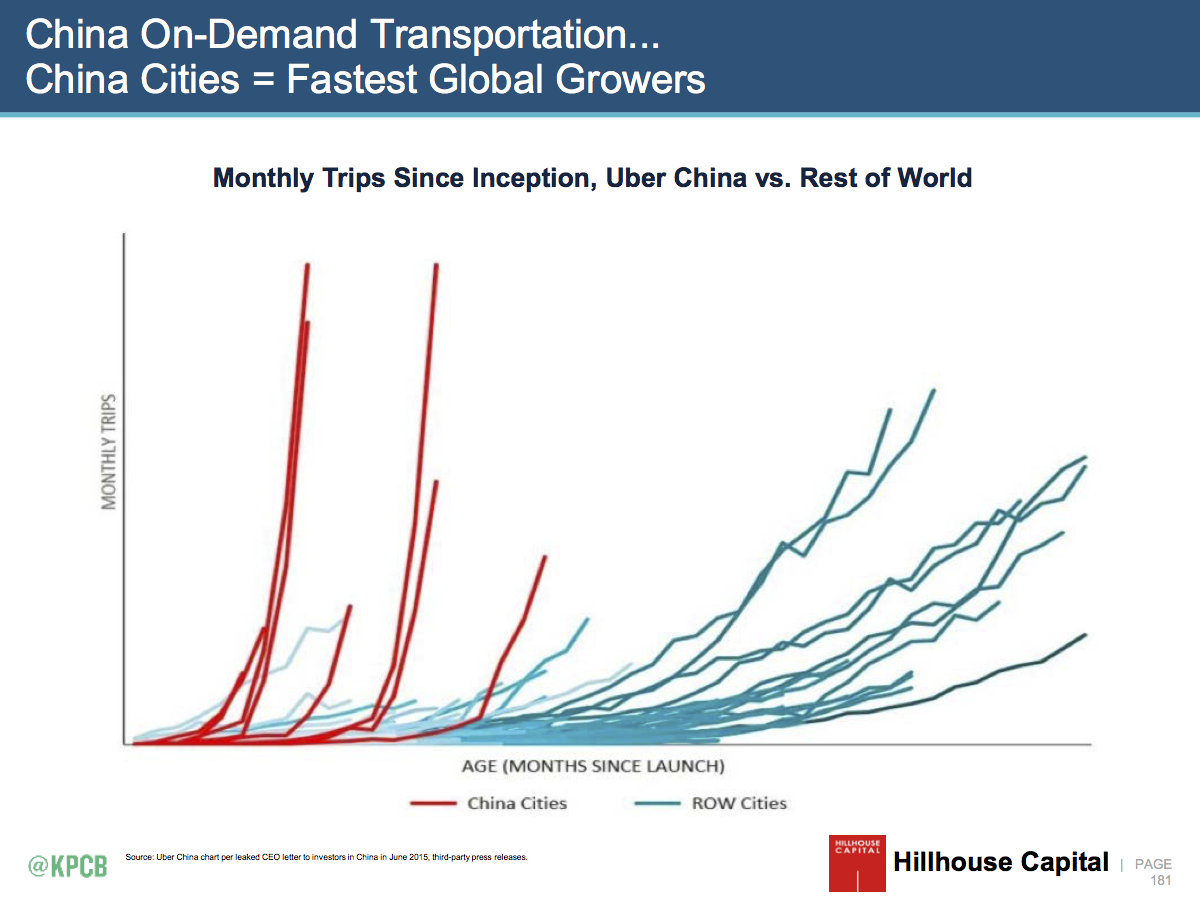 Or listen to the KPCB analyst herself in this 24-minute video from a session yesterday at CodeCon: