From #MeToo to #RiceBunny: how social media users are campaigning in China
By: Meg Jing Zeng      Source: The Conversation      Date: 6/2/2018
Rice bunny says, "the only thing I want for the coming Lunar New Year is anti-sexual harassment rulings… You can take my plate away, but you cannot shut my mouth."
So reads the opening line of a discussion page for the #MeToo campaign in China, posted on the Chinese social media platform Weibo.
"Rice bunny" (米兔), pronounced as "mi tu", is a nickname given to the #MeToo campaign by Chinese social media users. The #RiceBunny hashtag, accompanied by emojis of rice bowls and bunny heads, is used by Chinese women to expose sexual harassment – often in conjunction with other Chinese hashtags, such as #IAmAlso (#我也是)and #MeTooInChina (#MeToo在中国).
Using emojis to circumvent censorship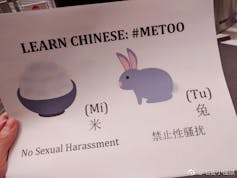 The adoption of nicknames and emojis is not just a public relations strategy designed to increase the popularity of the campaign, it also serves as a tactical response to circumvent online censorship.
Similar practices of using homophones and images are widely used in China as a form of coded language to avoid censorship on social media.
"River crab" and "grass-mud horse" – both invented by internet users – are two cases in point. Because of their pronunciations in Chinese, the former is used to indicate censorship and the latter refers to a Chinese obscenity.