No joke: have China's censors gone too far with ban on humour app?
By: Lily Kuo     Source: The Guardian      Date: 22/4/2018
End of Neihan Duanzi, which united strangers around funny memes, has driven users underground where they openly question controls over society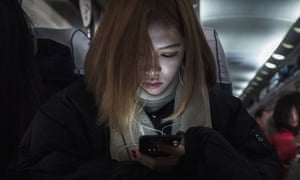 There is a not-so-secret club in China. Members find each other in traffic by honking their horn – one long honk, followed by two short ones. Others identify each other by completing nonsensical couplets: "The son of heaven covers the tiger" – to which the correct response is "chicken stew with mushrooms".
They call themselves duanyou after the app Neihan Duanzi, or "implied jokes", where until recently some 30 million users could watch short videos, comedy sketches and follow dirty jokes and memes. Fans also organise offline meet-ups. At one gathering in Hunan province earlier this month, a group posed in a parking lot with little red flags and a sign describing themselves as the "duanyoucoalition".
China's media regulator on 10 April ordered Neihan Duanzi's parent company and one of the country's fastest-growing internet companies, Bytedance, to shut down the app because of its "vulgar" content. It was one of several news apps to be removed from online stores or shuttered this month.
The group's unofficial song, On Earth, a ballad about life's struggles, has been censored. Cities from Shanghai to Changde in Hunan province have placed restrictions on honking. Authorities have advised news outlets not to report on fan gatherings. The founder and CEO of Toutiao, the news platform where Neihan Duanzi was first hosted, issued a public apology for failing to "promote positive energy and grasp correct guidance of public opinion".